June 11, 2015
6 Summits Challenge Expedition Continues Attempt To Break World Climbing Record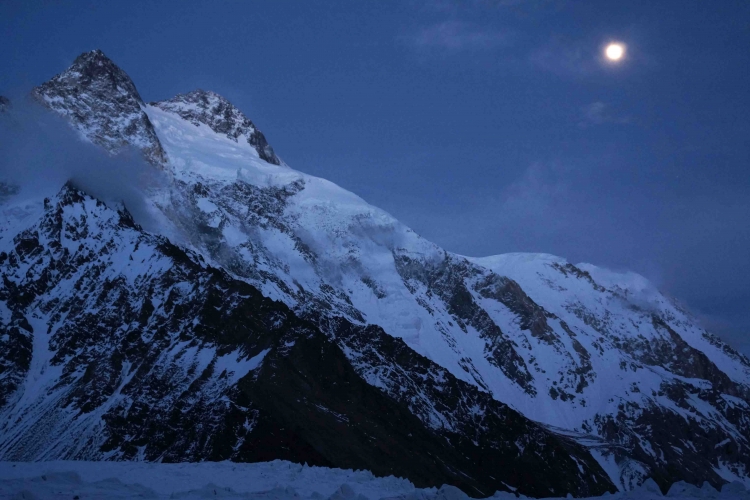 ---
Contact:
Kate Bowers/Roger Mecca
Weinberg Harris & Associates
6 SUMMITS CHALLENGE EXPEDITION CONTINUES ATTEMPT
TO BREAK WORLD CLIMBING RECORD
- Under Armour Employee Sets Off in July to Raise Awareness for Fight Against Human Trafficking -
BALTIMORE, MD (JUNE 11, 2015) - Nick Cienski, Mission 14® Founder and CEO and Under Armour Senior Director of Innovation, announced today that the record-setting 6 Summits Challenge expedition will continue with its unprecedented climbs of six mountains higher than 8,000 meters (roughly 26,000ft) in 2015. Expeditions to Broad Peak, Gasherbrum I, and Gasherbrum II will replace the climbs of Lhotse, Mount Everest, and Makalu, which were cancelled after a 7.8 magnitude earthquake in Nepal caused a fatal avalanche at Everest base camp on April 25, 2015.
Following the avalanche, Nick made the decision to cancel all of the spring Nepal-based expeditions and rededicate the 6 Summits team's efforts to provide help in Kathmandu and the Gorkha region alongside Mission 14's existing partner organizations Tiny Hands International, Shared Hope, and Catholic Relief Services. Nick's experience in Kathmandu heartened his commitment to fulfill Mission 14's goal of raising global awareness to help fight human trafficking more than ever.
Traffickers prey on desperation and helplessness. April's earthquake created plenty of both for the Nepalese people," Cienski said. "Learning that someone could take advantage of another human being in such incredibly helpless circumstances like those in Nepal and wherever a natural disaster strikes, made it abundantly clear that the 6 Summits Challenge should move forward and we must do whatever we can to raise the public's awareness of the heightened dangers affecting the disadvantaged and displaced children and families of Nepal.
Beginning in July, the 6 Summits Challenge will continue in Pakistan with an attempt to summit Gasherbrum I (26,150ft), Broad Peak (26,398ft) and Gasherbrum II (26,400ft), which are the 11th, 12th and 13th highest peaks in the world, respectively. Nick has climbed Broad Peak on two occasions and reached the summit in 1990.
In late August, Nick will travel to Tibet and attempt to summit the 14th highest peak in the world, Shishapangma (26,235ft), in early September. Following Shishapangma, Nick will take on Cho Oyu (26,864ft), the world's 6th highest peak, accompanied by Hirohasa Suzuki from Japan, the youngest member of the 6 Summits Challenge climbing team.
Finally, Nick will complete the 6 Summits Challenge by traveling back to Nepal and climbing the world's 8th highest peak, Manaslu (26,781ft), in late September. He will rejoin several 6 Summits Challenge teammates including his wife Sandi, filmmaker Elia Saikaly, and fellow mountaineer Gudmundor "Gummi" Halldorsson for this final climb. Nick previously summited Manaslu on September 25, 2014.
The driving force behind the 6 Summits Challenge is to redefine adventure in a way that engages a global audience to take a stand in the battle to defeat human trafficking. The 6 Summits Challenge will also raise valuable funding for Cienski's organization, Mission 14, and its national and international non-profit partners who are engaged daily in this fight for justice. These dedicated organizations help rehabilitate survivors, intervene on behalf of victims, drive legislation, and educate the public about modern day slavery. Through his efforts at Mission 14's headquarters in Baltimore, Maryland, and his journey to the world's highest mountains, Cienski's philosophy is that love, justice, and compassion are actions that cannot be accomplished from the sidelines.
You can follow Nick and his expedition on Facebook, Twitter, and on Under Armour's new social platform RECORD. #BeBrave
To learn more about the 6 Summits Challenge and the climbing team, visit www.6summitschallenge.com. You can also follow Nick's progress on the site via GPS tracker.
To learn more about Mission 14 and the 70,000 Foot Challenge, visit www.mission14.org.
About Mission 14 (www.mission14.org)
Mission 14®, a registered 501(c)(3) non-profit founded in 2011, was created to discover new and engaging ways to raise awareness, engage difference makers, and to financially resource existing best-in-class direct-service non-profit organizations dedicated to fighting human trafficking with a focus on the trafficking of children.
About 6 Summits Challenge (www.6summitschallenge.com) seeks to become a world record-setting expedition focused on attracting a global audience to raise awareness on the issue of human trafficking and the fight for fundamental human rights and justice.
# # #