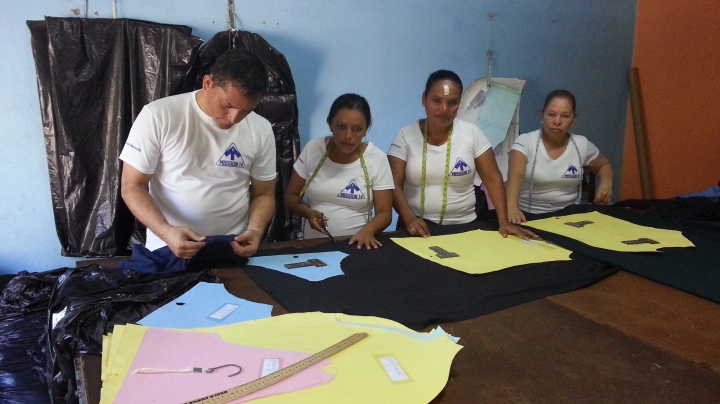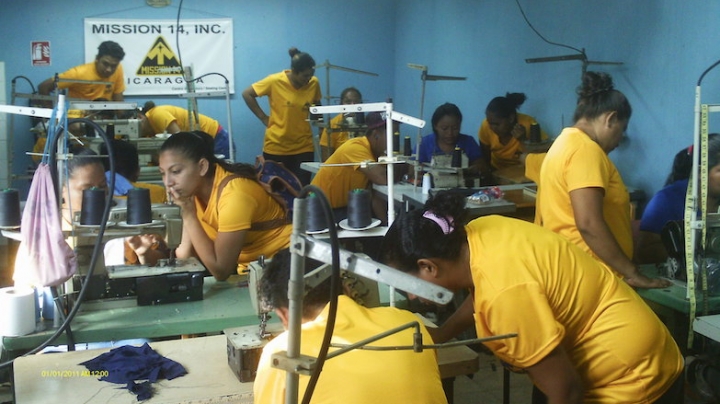 **Traducción al español, ver más abajo**

Mission 14® Sewing Workshop is helping change lives in Nicaragua.
Mission 14 Inc., is a registered 6162 NGO accredited in Nicaragua and is also 5013c registered nonprofit in the United States.
OUR STORY
For more than 40 years, families lived in appalling conditions in La Chureca, Managua, Nicaragua's main city dump. In 2013, over 1,200 people were living and surviving on as little as $1 a day.
Their homes were made of items found in the dump, which had no running water or electricity. Their children had little access to health care or an education… some children were being sold for sex…it was a seemingly hopeless situation.
In late 2010, a group of women from La Chureca community met with a small missions' team from Baltimore, Maryland and the concept of starting a sewing facility was conceived. In 2013 La Chureca was closed and people were relocated, high unemployment, however, continues to be a major contributor to the cycle of poverty. Human traffickers seek out the economically disadvantaged, in some cases deceiving them and making them captives for sexual slavery.
OUR HOPE
Our hope and prayer was to start an organization that provided an economic benefit to these families by providing them with real job skills and training in a vocation. We began by teaching a few of them how to make and sew t-shirts to sell locally. In 2016 we started teaching workshops, and this has resulted in the creation of a sewing school and training center.
OUR TRAINING
MISSION 14®'s comprehensive teaching curriculum was developed by our facility manager Fabricio Mercado along with local factory owners. The training is centered on teaching the students the basics up to advanced knowledge and skills needed for working in the local sewing businesses.
Course Details:
45 days in length.
18-24 students per course.
95% job placement rate.
142 graduates in 2019, 66 graduates in 2020 due to COVID-19 closure and 50% capacity.
2021 8 courses are scheduled.
WHO WE ARE
We believe strongly in Nicaraguan's helping Nicaraguan's.
In 2011 we started with 2 sewers, a manager and a pattern cutter. At present we have a total of 10 people on staff: 6 instructors, 2 mechanics of industrial sewing machines (subcontracted), 1 computer technician (subcontracted), and 1 volunteer.
Mission 14® works with local Nicaraguan businesses as well as US owned factories, such as Handsome Nica S.A., USLC Apparel S.A., and Gatornica AB S.A. They believe in our training programs and assist us with donating used commercial grade sewing machines, fabrics, cutting tables, and training our leadership team. In addition, fabrics, trims and patterns have been donated by Baltimore's own sports clothing brand, Under Armour Inc.
OUR STUDENTS
We are committed to working with local NGO's who share our passion to bring job related skills to impoverished communities in Nicaragua.
We are currently partnering with local NGO, ORPHANetwork, who in 2018 has put over 120 individuals through the training. The students come from local church communities as well as young adults aging out of the orphanage system.
GET INVOLVED
It's easy to sponsor a student to take the course and change a life!
There are two easy ways to get involved; If you are currently sponsoring an individual in Nicaragua through an NGO please have them contact us and we can arrange for them to take the course. Or, if you just want to help we can arrange to have one of the many students on the wait list ready to be sponsored.
Please contact us at info@mission14.org .
COVID-19 UPDATE
In 2021 we continue to implement COVID-19 safety protocols; working within the government capacity regulations, strict cleaning and sanatizing regimen.
Mission14 Taller de Costura ayuda a cambiar vidas en Nicaragua.
Mission14 INC es una ONG registrada 6162 acreditada en Nicaragua y también es 5013c registrada sin fines de lucro en los Estados Unidos.
NUESTRA HISTORIA
Durante más de 40 años, las familias vivieron en condiciones espantosas en La Chureca, Managua, el principal vertedero de la ciudad de Nicaragua. En 2013, más de 1.200 personas vivían y sobrevivían con tan poco, $ 1 al día.
Sus hogares estaban hechos de artículos encontrados en el basurero, no tenía agua corriente ni electricidad. Sus hijos tenían poco acceso a la atención médica, una educación, algunos niños se vendían por sexo ... era una situación aparentemente sin esperanza.
A finales de 2011, un grupo de mujeres de la comunidad de La Chureca se reunió con un pequeño equipo de misiones de Baltimore, Maryland y el concepto de comenzar una instalación de costura fue concebido. En 2013 La Chureca fue cerrada y la gente fue reubicada, el alto desempleo, sin embargo, sigue siendo un importante contribuyente al ciclo de la pobreza. Los traficantes de personas buscan a los económicamente desfavorecidos, en algunos casos los engañan y los hacen cautivos para la esclavitud sexual.
NUESTRA ESPERANZA
Nuestra esperanza y oración era comenzar una organización que proporcionara un beneficio económico a estas familias proporcionándoles verdaderas habilidades laborales y capacitación en una vocación. Comenzamos enseñando a algunos de ellos cómo hacer y coser camisetas para vender localmente. En 2016 empezamos a impartir talleres de formación, lo que ha dado como resultado la creación de una escuela de costura y un centro de formación.
NUESTRO ENTRENAMIENTO
El programa de enseñanza integral de MISSION 14 fue desarrollado por nuestro administrador de instalaciones, Fabricio Mercado, junto con los propietarios de fábricas locales. La formación se centra en la enseñanza de los estudiantes los conocimientos básicos hasta el conocimiento avanzado y las habilidades necesarias para trabajar en las empresas locales de costura.
Detalles del curso:
• 45 días de duración.
• 18-24 estudiantes por curso.
• 95% de la tasa de colocación.
• 142 graduados en 2019, 66 graduados en 2020 por cierre de COVID-19 y 50% de capacidad.
• 2021 8 cursos están programados.

QUIENES SOMOS

Creemos firmemente en la ayuda Nicaragüense para los Nicaraguenses.
En 2011 empezamos con 2 operarios, un gerente y un cortador de patrones. Actualmente contamos con un total de 10 personas: 6 instructores, 2 mecánicos de máquinas de coser industriales (subcontratados), 1 técnico de informática (subcontratado) y 1 voluntario.
Mission14 trabaja con empresas locales de Nicaragua, así como con fábricas estadounidenses, como Handsome Nica S.A., USLC Apparel S.A., i Gatornica AB S.A.. Creen en nuestros programas de capacitación y nos ayudan con la donación de máquinas de coser de grado comercial, telas, mesas de corte y capacitación de nuestro equipo de liderazgo. Además, las telas, adornos y patrones han sido donados por la propia marca de ropa deportiva de Baltimore, Under Armour Inc.
NUESTROS ESTUDIANTES
Estamos comprometidos a trabajar con ONGs locales que comparten nuestra pasión de traer habilidades relacionadas con el trabajo a comunidades empobrecidas en Nicaragua.
Actualmente estamos en asociación con la ONG local, ORPHANetwork, que en 2018 ha puesto más de 120 personas a través de la formación. Los estudiantes vienen de las comunidades de la iglesia local, así como los jóvenes adultos que crecen fuera del sistema de orfanato.

INVOLUCRARSE
¡Es fácil patrocinar a un estudiante para tomar el curso y cambiar una vida!
Hay dos maneras fáciles de involucrarse; Si actualmente está patrocinando a una persona en Nicaragua a través de una ONG, por favor póngase en contacto con nosotros y podemos organizar para que tomen el curso. O, si sólo quiere ayudar, podemos organizar que uno de los muchos estudiantes en la lista de espera esté listo para ser patrocinado.
Póngase en contacto con nosotros en info@mission14.org.
ACTUALIZACIÓN DE COVID-19
En 2021 continuamos implementando protocolos de seguridad COVID-19; trabajando dentro de las regulaciones de capacidad del gobierno, estricto régimen de limpieza y desinfección