February 03, 2015
Baltimore Magazine Q&A with Nick Cienski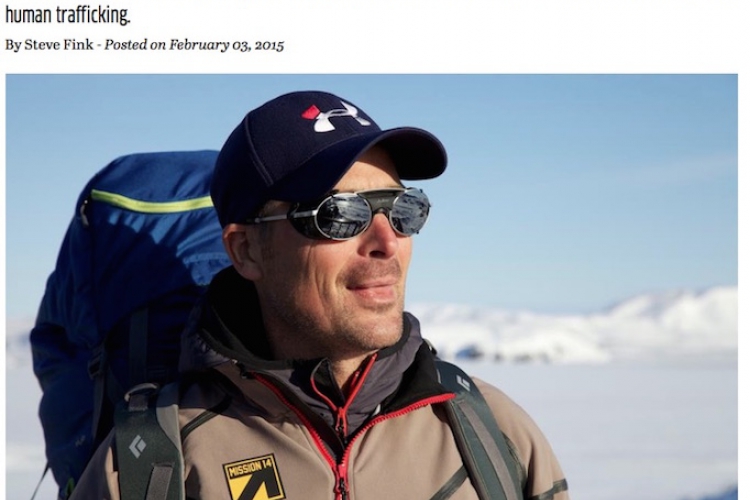 ---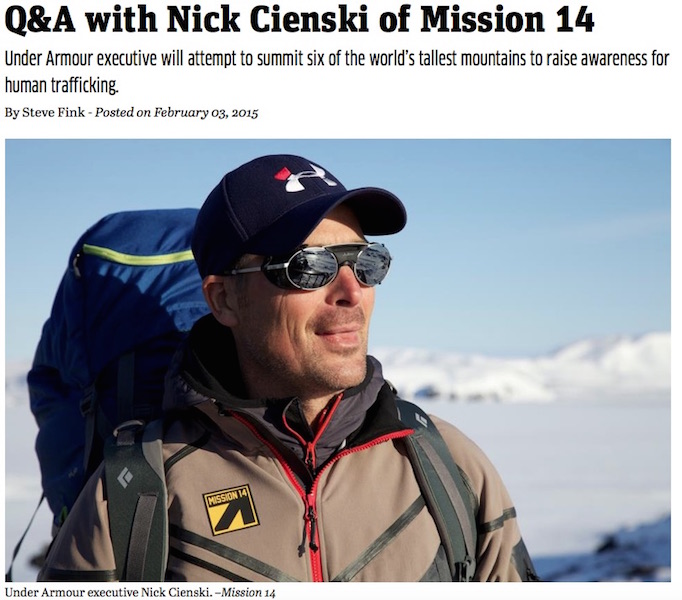 Nick Cienski shoulders a hefty undertaking as Under Armour's senior director of innovation, designing some of the local apparel company's most sophisticated products. Now he's taking innovation to a new level with the creation of Mission 14, a nonprofit that seeks to bring the global problem of human trafficking of children to the forefront.
What's the mission? Cienski will take part in the "6 Summits Challenge," an attempt to summit six of the world's tallest mountains in 2015. The summits include Everest, L'Hotse, Makalu, and Manaslu in Nepal; and Cho Oyu and Shisha Pangma in Tibet. If he completes the challenge, he'll break a climbing world record. We spoke to him shortly before he headed off to Argentina for a month on a practice climb.
You're about to embark on a pretty incredible trip. How in the heck did you concoct this idea?
I came up with this idea because I don't have a lot of skills. I finished high school. I designed jackets and outerwear and sort of unique garments for the innovation team here at Under Armour and, when I was younger in my 20s, I used to climb mountains—Everest and a bunch of others way back when.
So when it came time to [ask myself], "What are you going to do to make a difference?" I really didn't have a lot of places to go to look and skills to draw upon. And in true Under Armour fashion—we always ask what's the record here if I build it, and how do we set a new record—that's really where it came from, to try and go set a new world record. Why not? I'm fit, I'm strong, and I'm relatively mentally tough. So the journey really became that.
You know you wouldn't need a whole lot of skill to hold, say, a charity crab feast.
[Laughs]
Really though, that's a pretty big leap.
I think that a big part of it was, well, it is dangerous to get up just one of these, let alone to try to climb six of them back-to-back. There's a tremendous amount of unknowns. It hasn't been done. But I think for me, once the decision was made that we're going to do this, it needed to become much more about the cause than about the sacrifice and the hardship along the way.
I've got an amazing team of people around me, literally, the best of the best. So we've taken all kinds of precautions that we can for having experts around us who are amazing at weather forecasting. We've got Sherpas around us who have summited these mountains many times—they know every inch of the mountain. I've got support climbers who have climbed on dozens of expeditions without oxygen at these incredibly high altitudes. So I'm looking at those people to support, to help get me through this. I'm not alone out there.
How did you train for this?
From a physical standpoint, I've been training solidly for two years. In 2012, I ran 11 Tough Mudders back-to-back, one a month, and then I finished in the World's Toughest Mudder and I placed fourth in my age group. I think once it sort of became [official], I became very intentional and very determined about what I ate, cut a lot of alcohol out, and took on a personal trainer here at the CDC and Under Armour. It's been a very serious, thoughtful, planned training. I will run 3,000 stairs in a workout and in other days I'll climb those stairs with an 80-pound pack on, and I have a mask regulator that regulates airflow into my lungs to make my heart and my lungs work harder.
In August, I went to Nepal to climb the eighth-highest mountain in the world, which is when I really took my first steps on one of these in 20 years, and I was healthy up there. I climbed all the way, except say 200 meters from the summit, without oxygen. And I'm confident I could have summited, it's just that we had a storm rolling in . So I felt very comfortable upon returning from that trip. And it was like the old adage of riding a bike. The rhythm that you get into of sleeping, eating, nutrition, the gear, use of the gear, the steepness of the snow, understanding the snowpack—all of those things that in my 20s were very much second-nature sort of flooded back over the course of that trip.
Your climbing experience came mostly in your 20s. You turn 49 in July. Do you have any concerns about your age playing a role?
You know, I think in your 40s your body functions well at altitudes typically, for the simple reason that your body has gone through enough highs and lows through different illnesses and things like that that it adapts quite well.
When I was in my 20s, my body rebelled against altitude and I was sick and the older guys on the trip had aches and were dehydrated, and then two or three days later they were fine, whereas I wasn't. So I went on this trip to Nepal in August and really adapted very quickly and seamlessly and my blood oxygenation levels were always in the highest percentage of the group. I was at 80 to 90 percent at all times, so I felt very strong, which gives me some degree of confidence.
So you say you're confident in the physical challenge of the Mission. What about the mental aspect?
The mental aspect is always the tough one. The physicality drives a lot of the mental fatigue in that you don't sleep, you don't eat, you don't recuperate, and you don't recover. So that makes it very difficult from a mental perspective. I don't train mental. I mean, the Tough Mudders beat me up a lot so that's helped in the mental training, but the reality is that I don't know any sort of mental-training exercises. All of the mental stuff that I rely on all comes from my faith, to be honest. I know for a fact that there's no way I would enter this without it. I don't believe for a minute that physically or mentally I'm on my own.
Jitters?
I'm not really a jittery guy. I'm nervous. I'm more nervous for my wife, who will be in base camp. It's going to be a big thing for her, and I think having her down there, having her so close, just knowing that a lot of things happen up in these mountains—I'm nervous for her.
I think one thing that keeps both of us going on this is the philanthropic, the charity side of this thing. I have absolutely no reason to do this without the nonprofit side of it. People are pledging a penny a foot for my 70,000-foot challenge. That fuels me. It's like I don't want to slow down because, every step I take, we're providing more resources for these guys to do what needs to get done in this fight.
The cause of human trafficking is clearly close to your heart. How does the problem hit home for us here?
It's alive and well here. I don't operate on the front lines, but the Araminta Freedom Initiative, which is a Baltimore-based trafficking organization, does. One of the scary things that they see here is our proximity to I-95, the fact that there are four major professional sports teams in a small radius around us between Philly and us and D.C., all of this—and the casino—they drive trafficking. Because there's so many drugs and other crimes here, the focus has been there. A lot of the victims that I've heard of, a lot of them pass through here as they get moved around and eventually end up staying because nobody is looking.
That's pretty scary.
One of the scariest things we're starting to see now is that the guys that are dealing drugs have realized that trafficking of women and children is even more profitable for the simple reason that your product you can keep reselling. Once you sell a bag of crack, you've got to go get another one. Whereas when you get a girl you can sell her over and over and over again. So it's actually becoming a much bigger problem locally. We've also got a very high degree of lower-income population living within the city bundled up next to some very high-income neighborhoods. So the proximity is also a factor here.
How hard will it be to end it entirely?
The biggest problem is demand. Trafficking happens where lots of men gather. So you think about sports, you think about conventions, you think about casinos—that's what drives it. It's horrible to think that this follows the same economic curve of any other business. And that's really the fight here. What makes this problem so difficult is that it's not an issue of raising more money. The money is definitely needed for the recovery of housing and the safety, but fundamentally this problem is a heart issue. We've got to change people's hearts and that's what makes this problem so difficult. At what point does society condone an old man having sex with a 10-year-old girl? That's what's happening here and how does that become a hundred-billion-dollar-a-year criminal business.
So what can Baltimoreans do to help?
I think people need to get educated. When I started learning about this, I couldn't find information. I could spend all day on Google looking for stuff. With our 14 partners, we created this resource portal and there's 60-some-odd pieces of easy-to-use information. People should go to our website and watch a couple of videos. If you're a parent and you've got a young boy or girl, they get approached in shopping malls here around Baltimore—White Marsh, Columbia Mall—traffickers are in those malls looking for girls to talk to. We've got to get educated.
One of the things that is really important to us is the whole concept of asking people to be brave and to learn and to take this on. It's hard, people don't want to talk about this—it's an ugly topic. But it's an important discussion to have, and I hope people get that. I hope people go to the website and learn about it and then do something, whether they have a little fundraiser, whether they bring it up at a dinner party.
Does it surprise you that the issue isn't as mainstream as you say it should be?
It's coming. Remember the days when nobody wanted to talk about AIDS? It was like somebody else's problem. And now it is out there. This will become that. Just thinking of what Obama did when declared January Anti-Trafficking Month, that was a huge step. Now he's banding together with Clinton to raise money for it. These things are going to change. Other countries are doing big things. Governments are doing bigger things to change legislation. This is a fight that's going to take a generation to get rid of without a doubt.
So your hope is by doing this epic challenge, you'll further that conversation.
Even though I don't have kids, I can't imagine being a parent and this happening to a child. I am risking everything I've got for this fight.
My hope is we'll be able to reach millions of people through social media. We're doing so many things behind the scenes from a social perspective to generate awesome content. I'm going to have a GPS device that will allow people to follow me in real time on Google Earth. We'll post videos from the mountain. I wanted Mission 14 to be a simple website where it's really easy for people to go and learn.
It would be pretty cool for you to complete this Mission and set some records, but I see that's not what matters to you the most.
Absolutely. I don't need to do this. I've got a great job here at Under Armour, I've got a beautiful wife, I've got a very nice, happy life here and I certainly don't need to put it all at risk for this. I did my climbing back when I was 20, if I really wanted to go climb mountains I would have kept climbing. This isn't because Nick Cienski wants to stand on six mountain summits. Four years of getting this off the ground was an incredible amount of work and there's no way I would do it just for standing on a summit. It has to be bigger than that.
Regardless of what happens, you'll probably notch an award for the world's coolest selfies, don't you think?
[Laughs] Yeah, we've got an amazing cameraman. He's a one-stop shop— he shoots with the Sherpa, so he's climbing with me every step of the way. So we're gonna come back with some absolutely amazing footage.
So, really now, you sure you want to do this? There's still time to set up the charity crab feast.
We'll do that when we come home. I'm fully committed. You get to that point where you plan for so long and it's go time. Every thought I have, every fiber in my being—it's go time.